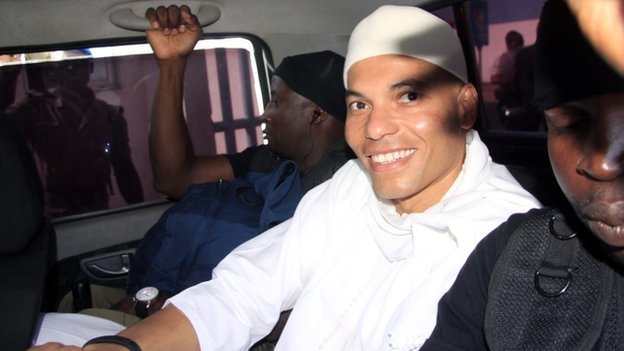 (JollofNews) – The flamboyant son of Senegal's ex-President Abdoulaye Wade has called himself a "political prisoner" during his first appearance at a special court trying him on corruption charges.
Karim Wade is accused of embezzling about $238m (£140m), which he denies.
Senegal's League of Human Rights (LHR) said the trial would not be fair as it required him to prove his innocence, rather than the prosecution his guilt.
He was arrested in April 2013, a year after his father's defeat in elections.
'Minister of earth and sky'
Karim Wade was influential in the former government, holding several ministerial posts simultaneously, including minister for infrastructure and air transportation.
His large portfolio led to him being dubbed "the minister of the earth and the sky" and he was alleged to have acquired several foreign firms by illicit means.
When he was arrested, he was accused of illegally amassing about $1.4bn during his father's 12-year rule, which ended with opposition leader Macky Sall's election as president in 2012.
But the amount has been reduced to about $238m.
"We declare the hearing open," Judge Henri Gregoire Diop told a packed court room in the capital, Dakar.
Dressed all in white, Karim Wade said in his opening statement that he was a "political prisoner", the AFP news agency reports.
Earlier, his lawyer Seydou Diagne told the BBC that President Sall's government had initiated the trial for political reasons.
"The only thing they want is to get rid of a political rival," he said.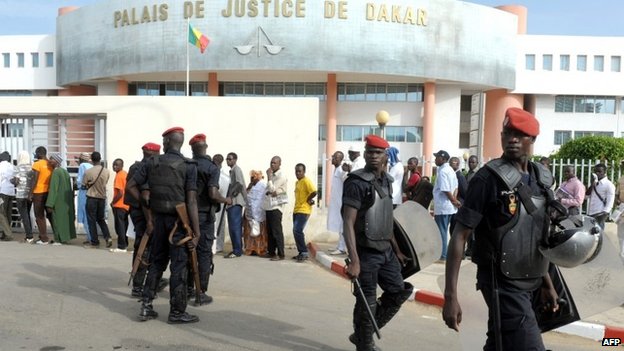 Assane Doma Ndiaye, the LHR's president, said the special court would operate in an unusual way by reversing a basic legal principle – that the prosecution must prove guilt.
This meant that "the rights of the defence are sacrificed", he said.
"They don't take into account the presumption of innocence; the right to appeal, " Mr Ndiaye added.
Justice Minister Sidiki Kaba defended the trial, saying the government was trying to fight corruption and ensure there was accountability and transparency.
He was confident judges would take into account criticism and that the trial would take place "under the best conditions", he said.
The BBC's Raissa Youssouf in Dakar says Karim Wade could be sentenced to 25 years in prison if convicted.
Senegal had filed a complaint against him in France where the government believed he had invested in property but the case was recently dropped because of a lack of substantial evidence, our reporter says.
Source: BBC News