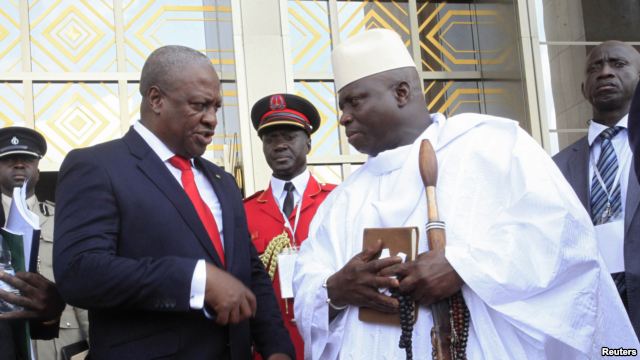 (JollofNews) – Amnesty International, Ghana, has called on President John Dramani Mahama to use his current position as the Chairman of ECOWAS to urge President Yahya Jammeh of the Gambia
to respect and protect the rights of people living in that country.
Amnesty has also urged governments across the world to bring pressure to bear on the President and the Government of the Gambia to work towards improving their human rights record and to respect and protect the rights of their citizens and foreign nationals in the Gambia.
Addressing a press conference in Accra, Mr Lawrence Amesu, Director of Amnesty International, Ghana said: "Since the Gambian President took office about 20 years ago through a military coup, he has "continued to crack down on political freedom, and commits widespread human rights violations with total impunity".
"Freedom remains an illusion for most of Gambians, particularly, journalists and human rights activists, who live in fear of arbitrary arrest, torture, incommunicado detention, unfair trials, rape, disappearance, and extra-judicial executions".
He alleged that human rights defenders, journalists, political opponents and Gambians who are critical of government policies face intimidations, harassment, death threats, arbitrary arrest, detention, torture and ill-treatment, and enforced disappearance.
Mr Amesu said based on research findings and experiences on the human rights situation in the Gambia Amnesty International's has put together a report titled: "Twenty Years of Fear in Gambia -Time for Justice".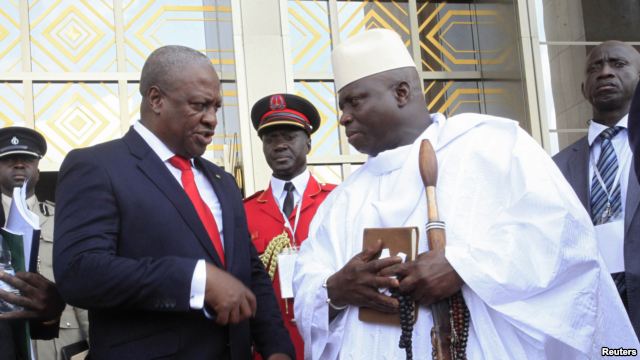 According to Mr Amesu, President Jammeh's victims Journalist Ebrima Manneh, who was arrested in September 2006, as well as some opposition party members and security personnel, were victims of the enforced disappearance system.
He also mentioned that 50 foreign migrants, including some Ghanaians, were on 23rd July 2005, arrested and killed by Gambia's security forces on suspicion that they were planning to overthrow the government, while 14 protesters were killed in April 2000.
Eight men, including a General, by name Lang Tombong, he said, were arrested in 2009 and convicted of treason and consequently sentenced to death in July 2010.
The Director of Amnesty Ghana, said since President Jammeh assumed office, the Gambian Justice system had been weakened due to the recurrent interferences by the Executive and increasingly repressive legislation aimed at muzzling dissents.
He alleged that in April 2013, the National Assembly of the Gambia, passed amendments to the Criminal Code increasing sanctions for "giving false information to public servants" (section 114) from six months imprisonment and /or a fine of 500 dalasi (13 Dollars) to imprisonment of up to five years and a fine of 50,000 dalasi, (1,293 dollars).
He said President Jammeh had also through the National Assembly passed several laws that ban freedom of expression and criminalizing internet users, journalists and bloggers found to be spreading false news to a 15 year prison term or a fine of three million dalasi (74, 690 dollars).
"Amnesty International, Ghana, the Commonwealth Human Rights Initiative, Africa Office, and the Media Foundation for West Africa is, therefore, alerting the African Commission on Human Rights and People's Rights, the ECOWAS, African States and the international community on the deterioration of the human rights situation in the Gambia over the last 20 years." he said.
The three bodies are also urging President Jammeh to ensure that the Gambian authorities repeal legislative provisions used to restrict freedom of expression, and also protect journalists, human rights defenders and political activities who are attacked and abused for just exercising their rights to assembly and association and of freedom of expression.
They also called on the Gambian President to release all prisoners of conscience and all those who are currently detained illegally or to charge them with a legal offence in a fair trial, as well as to investigate reported human rights abuses and bring the perpetrators to justice.
Source: GBCGHANA.COM