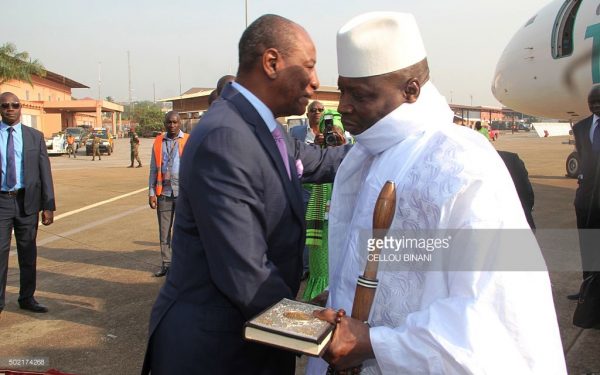 (JollofNews) – The Gambian leader, Yahya Jammeh has said the Gambia will benefit from a US$500 million hydroelectric power plant being constructed in Guinea.
President Jammeh made the pronouncement at the Banjul International Airport on Tuesday evening as he returned from Conakry where attended the official inauguration of Guinean leader Alpha Conde's second term mandate on Monday.
The Gambian leader said, he had frank discussions with his Guinean counterpart and that the bilateral ties between the two nations had been strengthened.
Jammeh who was the only head of state to attend the inauguration ceremony, was honored with the laying of the foundation stone for the new hydroelectric power plant which according to him will supply the Gambia with affordable and reliable energy.
The Gambian leader described relations between the two countries as one, divided by colonialism. He further noted that Guinean citizens love the Gambia and have since been residing peacefully in the country, likewise Gambians in Guinea.
The new electricity supply agreement if implemented is expected to greatly address the Gambia's electricity shortages, thereby enhance economic growth.