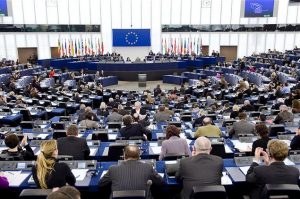 (Jollofnews) Members of the European parliament  Thursday called on member state to consider  imposing a travel ban or other targeted sanctions on officials responsible for serious human rights abuses in the Gambia.
The parliamentarians also called on the European Union and its member states to consider freezing all non-humanitarian assistance to the government of The Gambia.
The law makers expressed concern about Gambia's  "rapidly-worsening security and human rights situation" and called for the immediate release of all peaceful protesters.
It also called for a swift and independent investigations into the April 14th and 16th events and the death in custody of the United Democratic Party member, Solo Sangdeng.
It added: "Parliament firmly condemns the forced disappearances, arbitrary detention, torture, and other human rights violations targeting dissenting voices against the government of President Yahya Jammeh, such as journalists, human rights defenders, political opponents and critics, as well as lesbian, gay, bisexual, and transgender people".
The European Union is the Gambia's largest donor but relationships between the two has hit the rocks due to the regime's poor human rights record.
Recently the EU blocked some 13 million euros of bilateral funding to the Gambia due to lack of progress in several areas of human rights and rule of law.