(JollofNews)- An opposition leader in the Gambia has accused President Yahya Jammeh of being a danger to the country's peace and security.
Mai Ahmad Fatty, leader of the Gambia Moral Congress party (GMC), said Mr Jammeh's response to recent opposition protests and his relentless bellicose language foisted against the opposition provides additional fodder and justification to people seeking to flush him out of power through unconstitutional means.
President Jammeh is facing an unprecedented opposition protests demanding an end to his rule, but he has vowed to cling on to power accusing his opponents of being used by the West to cause chaos in the country.
He told his supporters in Farafenni, North Bank Region, that those seeking to remove him from power would never succeed and his regime would triumph over any challenges.
But the GMC leader said Mr Jammeh's language has proved beyond a shadow of doubt that he is not ready for peace to prevail in the West African nation.
"Opinion is now settled that President Jammeh has absolutely no intention of conducting any semblance of credible elections," Mr Fatty said.
Writing on his Facebook page, the GMC leader who is leading calls for Mr Jammeh to resign added: "With the nation on impending political conflagration, the relentless bellicose language foisted against the opposition, the enormity of contempt evinced and the utterly reckless misappreciation of public temperature, all proved beyond a shadow of doubt that he is not ready for peace to prevail in our country.
"The blunt notion of "destabilisation" and the deranged distortion of "national security" protruding from the mouth of Jammeh, exposes his ungrateful arrogance bordering on senile insanity."
Mr Fatty condemned the government's brutal response to the protests and the torture of some of the detained protesters by security officers.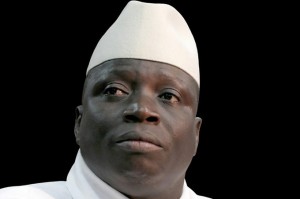 "The barbaric brutality he (President Jammeh) continues to preside over against peaceful protesters from his sadistic kingdom, particularly during custody, without an atom of remorse or human conscience, leads me to now question his being," Mr Fatty added.
"Each moment he opens his mouth, he provides additional fodder and justification to those seeking a third way out. 
"As a key opposition stakeholder, I consider President Jammer's conduct a danger to national security. I consider his poisonous utterances against citizens with divergent views a threat to our sovereignty. President Jammeh must be stopped from living a life of treason. We must change this danger with his dangerous politics and ways."
The GMC leader however noted that as the Gambian crisis is a political one, it requires only an urgent political solution.
"I strongly continue to support the route to peaceful protests ("destabilisation as defined by Jammeh), and condemn its obstruction," he said.