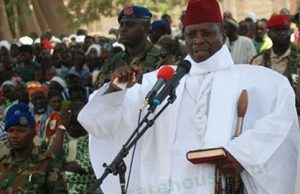 (JollofNews) – President Yahya Jammeh of the Gambia has vowed to crush his opponents and bury them 'nine-feet deep' in his first public comment on the current political crisis.
Mr Jammeh has been in power since 1994 and has vowed to rule the Gambia for a billion years.
However, pressure is mounting on him after a series of unprecedented opposition protests demanding an end to his rule.
Mr Jammeh has dismissed the protesters as bunch of troublemakers who are being used by the West to cause chaos and has vowed to come down heavily on them.
"Let me warn those evil vermins call oppositions. If you want to destabilise this country,  I will bury you nine-feet deep and no westerner will dare say anything, let make that very clear to you," Mr Jammeh told his supporters at meeting in Farafenni,North Bank Region, on Tuesday.
"You have a right to join any political party and you can vote for anyone you want. But nobody have a right to join a group of hate mongers and backward vermins that hate themselves and hate Africa.
"They are slaves to the West and they want to destabilise this country. If you join that group, you will regret why you were born on the face of this earth."
Mr Jammeh who is currently on a tour of country, which is aimed at giving him an opportunity to meet with the electorates, know their concerns and work towards addressing them added: "We don't have an opposition in this country. What we have are opportunistic evil people being use by the West.
"These are the people being sponsored to destabilise progressive African countries but they will fail in the Gambia.  The West  have failed for 21 years and they will fail to destabilise my country for the next 1000 years.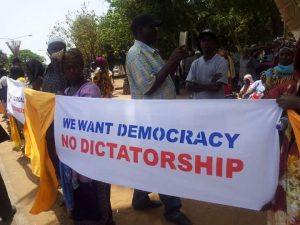 "Any western country that wants, try me and see. I don't beg them, I am an independent proud African and I will tell them what they don't want to hear… How can former colonial masters who exploited and looted this county without democracy come and teach Africans about democracy. That is an insult that I stand up to and that is why they don't like me. Do I care? I don't! They can go to hell."
Turning his attention to western media, the president accused them of reporting lies and being used as a mouthpiece to destabilised African countries.
"They say massive demonstrations are in the Gambia, what great liars the western press, you are all liars," he said.
"Because you are used as mouthpieces to destabilise Africa but in the Gambia you will fail as you have failed in the last 21 years to destabilise this country with your lies and evil intentions."