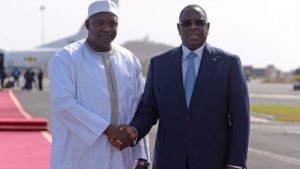 (JollofNews)- An estate developer in Senegal Friday donated two properties worth 240 million CFA to Gambia's president Adama Barrow.
Mr Barrow who is currently on a state visit to neighbouring Senegal was given the gift by Mar Thiam, CEO of Getran, during a visit to the Getran site in Diamniadio.
He was accompanied to the site by the First Lady of Gambia and Prime Minister Mahammed Boun Abdallah Dionne.
Presenting the gift to the president, Mar Thiam, who took Barrow on a tour of the luxurious apartments he is building, explained that his action was taken with the aim of strengthening relations between Senegal and the Gambia.
He added that as an entrepreneur, the first markets he won were in the Gambia with Banjul International Airport and Arch 22 in Banjul.
He said the properties are donated in recognition of the trust of the Gambia people and in hope of a healthy collaboration between Senegal and the Gambia.
Receiving the gift, President Adama Barrow thanked Mr Thiam for his generosity. He also commended the Senegalese people and government for the hospitality accorded to him and his entourage.
PapaK