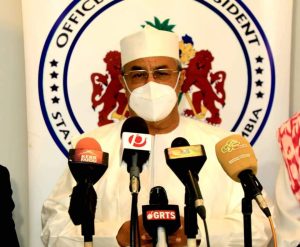 (JollofNews) – President Adama Barrow Thursday received in audience the UN Secretary General for West Africa and the Sahel, Mr Mahamat Saleh Annadif, who was at the Presidency to discuss initiatives geared towards ensuring a peaceful electoral process in December.
Speaking on his meeting with the President Barrow, Mr Annadif said that his discussions with the President centred on the upcoming elections. He added that his delegation would be meeting all relevant stakeholders to ensure that every party has the same agenda of conducting a peaceful electoral process.
Mr Annadif also expressed his satisfaction with the peaceful nature in which the registration process was conducted. He said that 57% of women and 58% of youth registered to vote demonstrates the Gambian people's commitment to this democratic process.