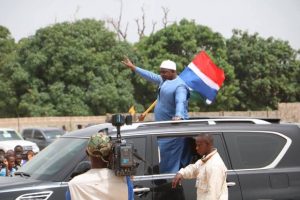 (JollofNews) – President Adama Barrow of the Gambia was booed by some members of the public as he visited Kachikally in Bakau on Sunday.
The president was jeered as his motorcade passed through the streets.
Addressing thousands of supporters at a meeting in Sukuta on Saturday, President Barrow launched a blistering attack on opposition leader Ousainou Darboe describing him as an ungrateful man.
Several people could be heard shouting angrily at him, but he continued to make his way through the crowds with a smile on his face.
In one video some of his supporters, however, cheered, clapped and chanted "We need Barrow we don't need old pa," as he waved from the rafter of his car flanked by guards.