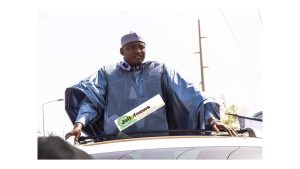 President Adama Barrow of the Gambia has defended going into alliance with the country's former ruling APRC party .
Mr Barrow said the alliance is done in the spirit of national reconciliation, peace and in the best interest of the country.
Speaking to reporters shortly after submitting his nomination papers at the electoral commission, Mr Barrow who is seeking a second term in office, said the APRC is registered party that belongs to Gambians and he wants to be president for all Gambians.
He said his he intends to use the next presidential term to continue with his national development plans.
"I have been in power for 5 years now and the Gambia people have seen the development I have brought in this country," he said.
"I have one main priority. That is development."
Asked whether he will follow the example of his main challenger, Ousainou Darboe, and publicly declare his assets, Mr Barrow said, he has presented all that is required of him by the electoral laws of the country.
"I do everything according to the law and it is up to the Independent Electoral Commission to decide whether to make my assets declaration public or not," he added.
Mr Barrow said he has full confidence in the ability of Gambians to elect their own leaders and he will respect their decision in the election.
"I am a democrat and I strongly believe in the principles of democracy. I will therefore urge the IEC and members of the IEC to remain impartial in this election to ensure credibility and fairness."
Asked whether he will fully implement recommendations made by the country's truth commission that probe human rights abuses of the previous Jammeh regime, Mr Barrow said he is yet to receive the report.
He added: "But when as soon as I receive the report, my government will sit and look at it before we make a decision. It is not going to be my personal decision, but a government decision."
The president paid condolence to the families of his supporters who died in yesterday's traffic accident, while traveling to attend the nomination.