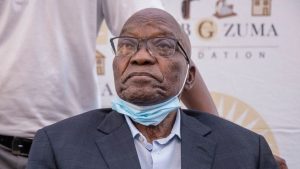 The ruling by the High Court to return former South African president Jacob Zuma to prison to complete his 15-month sentence would "serve no purpose" but to merely exact "political revenge," a senior opposition official said on Thursday.
The High Court on Wednesday ruled that Zuma's freedom was unlawful and he must go back to prison after revoking his medical parole.
EFF spokesperson Vuyani Pambo said "arresting Zuma is nothing but political revenge."
"If the law must serve the purpose of rehabilitation or bringing order to society, what is the purpose of arresting Zuma again?
"The point is that he must be corrected and, in this case, it looks like there is a clear mandate to punish as opposed to correcting him," Pambo said.
The court ruled that placing Zuma on medical parole was unlawful, and it blamed former National Commissioner of Correctional Services, Arthur Fraser, for the decision which was against the advice of the Medical Parole Board and his medical report.
Zuma was sentenced for contempt of court after he refused to continue to appear before the Commission of Inquiry into State Capture allegations.
In addition, the court declared that the time Zuma was out of jail on medical parole, the two months must also be included in his sentence.
Zuma's legal team said it had filed an application for leave to appeal the judgment, with the Correctional Services Ministry spokesperson Singabakho Nxumalo saying the office was studying the judgment before acting on it.