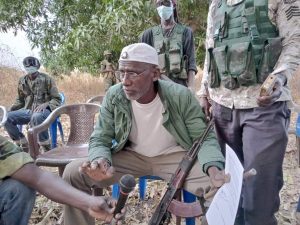 The leader of the Southern Senegalese separatist movement, Salif Sadio on Sunday warned that The Gambia must not allow her territory to be used by Senegal, Ecowas or any other body in the Casamance conflict.
Mr Sadio was speaking at his base in the jungle, where he handed over 2 dead Senegalese Ecomig soldiers killed in a clash with his troops on Monday last week.
The gesture, he said, came after Ecowas officials led a successful negotiation which also featured Gambian army and the Community of Sant' Egido, a catholic social service association in Italy who were involved in previous negotiations in the Casamance conflict.
After listening to the various speakers, Mr. Sadio said the MFDC has never had issues with The Gambia in its 40 years of arm struggle and did not wish to have any issues with Banjul. "However, you Gambians must be careful not to be dragged into the conflict by Senegal as it happened in Guinea Bissau. The people of Casamance and Gambia have biological relations dating back to a long time. There is no Gambian without ancestral links in Casamance unless you are a stranger," he said.
Sadio said he has foreseen Monday's incident and warned that if it happens again, he would not stop and the world will know and regret the consequences. "I am not bragging; a similar thing happened in Guinea Bissau and they have suffered the consequences. I think it is not true that you Gambians could say that you are not part of it. How can someone stand in your yard, move to attack somewhere, and come back to stand there? Yet, you are claiming you are not part of it," Salif Sadio told the audience, which included Captain Faring Sanyang, Operation Officer 4 Battalion. The MFDC leader however said he is saddened by the disruption to life and schooling in the affected areas in The Gambia, saying that those affected could even be relatives of Casamance because they are neighbors. "Look at all these villagers, some of them are farmers who had to flee leaving their crops to cattle," he lamented.
Salif Sadio said he wondered how Ecomig, which is supposed to be protecting the President of The Gambia and keep the peace, could wander into his 'country' Casamance.
Earlier, Operation Officer 4 Battalion Captain Faring Sanyang assured the MFDC leader that the Gambian soldiers have no interest in getting into the conflict in Casamance. He thanked the MFDC for allowing them to enter his territory on a fact-finding mission. Captain Sanyang assured Sadio that once the investigations are over, the outcome will be known to the MFDC. He echoed the close relations between the people of The Gambia and Casamance.
"That is why when on that fateful day we heard that your combatants were in Bajagarr, I was the one who went there to talk to them to leave the area. I want to assure you that we as Gambians would not like the war in any part of the world, more so in Africa," Captain Sanyang said. Other speakers included members of the Community of Sant' Egido.
Written by Essa Jallow, just back from MFDC base