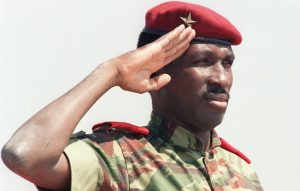 The Burkinabe military prosecutor's office on Tuesday demanded 30 years in prison against former President Blaise Compaore, accused of being the main sponsor of the assassination of his predecessor Thomas Sankara in 1987.
Currently in exile in Cote d'Ivoire, the former head of state of Burkina Faso (1987 – 2014) is tried in absentia in the trial of the assassination of Thomas Sankara, killed with twelve of his companions in a coup d'état on 15 October 1987. The military prosecutor's office has asked the court to find him guilty of "attack on state security," "concealment of a corpse" and "complicity in murder."
Ousted from power by the street in 2014, Blaise Compaoré has since lived in Cote d'Ivoire and is the great absentee of this trial, his lawyers have denounced "a court of exception." Twelve of the fourteen defendants were present at this trial where the overwhelming majority had pleaded not guilty.
Thirty years in prison were also requested against the commander of his guard, Hyacinthe Kafando, the other major absentee of the trial, on the run since 2016. He is suspected of having led the commando that killed Thomas Sankara and his collaborators.
In addition, twenty years in prison have been requested against General Gilbert Diendéré, one of the leaders of the army during the 1987 putsch and the main defendant present. He is already serving a 20-year sentence for an attempted putsch in 2015.
Several prison sentences – from three to twenty years – were also requested against five defendants and one of eleven years suspended. Finally, the prosecution requested the acquittal, "for non-constitutional facts," for three defendants and for "prescription" for the last two.
Young Burkinabe captain who took power in 1983, at 33 years, Thomas Sankara is considered an African hero. More than three decades after his assassination, his anti-imperialist and revolutionary discourse continues to fascinate many young people on the continent.