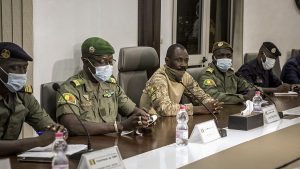 On the sidelines of the last AU-EU summit in Brussels, Belgium, Nana Akufo-Addo, the current chairman of ECOWAS, maintained that the sub-regional organization was ready to accept a twelve-month transition in Mali.
On December 24, 2021, the transitional authorities in Mali and Ecowas parted ways without agreement on the duration of the new transition.
Almost two months later, the Economic Community of West African States (Ecowas) opened the door to a twelve-month transition in Mali. At the end of this period, the military must organize free and transparent elections to allow a return to constitutional order.
Such a proposal, if it finds a favorable echo in Bamako, could lead to the gradual lifting of the economic embargo imposed on Bamako since January 9, 2022 by the West African bloc.
This statement by the Ghanaian president at a time when the junta is working on a new transition charter is not insignificant. It sounds like a reminder to the Malian transition authorities that Ecowas does not intend to align itself with the five-year term proposed by the National Conference for Reforms.
Faced with the intransigence of the sub-regional body, the Malian government had submitted a roadmap with a four-year transition starting in February 2022, but the said proposal was rejected by Ecowas, which requires a shorter transition.
Since the first putsch in August 2020, followed by the power grab in May 2021, which installed Colonel Assimi Goita as president of the "transition," Ecowas has been pushing for a return to civilian rule as soon as possible.
Mali's ruling junta, citing security reasons, had backed out of its commitment to hold legislative and presidential elections in February 2022.