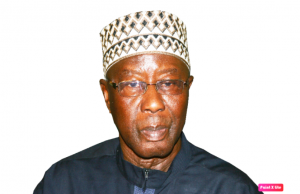 The death has been announced of Lamin Waa Juwara, the leader of the National Democratic Action Movement (NDAM) and former propaganda secretary of the opposition United Democratic Party (UDP).
Mr Juwara, a veteran politician who represented his native Dankunku constituency and held various senior government positions including minister of Local Government, died on Monday at home in Brikama, aged 79, after a brief illness.
Born in 1943 in Niamina Dankunku, Central River Region, Mr Juwara also known as Mbaroadi was a prominent politician. In the early 1970s, he served at the Ministry of Education before becoming a local government officer in Brikama in 1974. Juwara also served as commissioner in all the five regions in The Gambia.
In the 1992 parliamentary election, he contested in his native Dankunku as an independent candidate and won and served until the overthrow of the PPP government by the military in 1994 and later joined the UDP after party politics was lifted.
Mr Juwara broke away from the United Democratic Party after a heavy defeat in the elections in 2001, accusing the party leader Ousainou Darboe of complacency and formed National Democratic Action Movement (NDAM).
In 2005, the party joined the five-party opposition coalition National Alliance for Democracy and Development (NADD) . However, following the split of the alliance, Mr Juwara joined the government of President Yahya Jammeh and served as minister for Local Government.
He was subsequently sacked by Jammeh after a fallout over his 'principleness' and later dragged to court over what he said was trumped-up charges from which he was acquitted by a court in 2015.