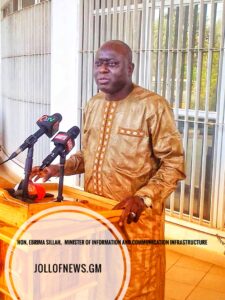 The International Organization for Migration (IOM) on Friday has given a major boost to the Office of Government Spokesperson by providing new equipment (printer, digital devices etc) that is expected to ease the workload.
Speaking on behalf of Government Spokesperson during a donation ceremony held at GRTS building, Kanifing, the Minister of Information and Communication Infrastructure, Ebrima Sillah, lauded IOM – Gambia for their "continuous support" to the ministry efforts to making sure visibility expresses itself via migration reporting.
Over these past months, IOM – Gambia has been very active in throwing its weight behind the ministry of information, boosting its ability to report on migration. Young Gambians continue to embark on the perilous journey to Europe as they risk their life to reach the European citadel.
Sillah said The Gambia remains one of the top Sub-Saharian countries with a huge population of migrants. He then added that a good number of them are stuck there without papers, while indicating that it is paramount to use the media to ensure visibility around these issues.
"As the main entry point for government communication, we thought it necessary to strengthen our collaboration with IOM, as part our strategic idea to strengthen the Office of Government Spokesperson," he remarked. "This support could not come at a better time. It will facilitate the work of the Spokesperson, and will allow him to deliver the information on time."
Far more important, Sillah went on to say that the IOM will help their targeted beneficiaries to make informed choice.
For her part, IOM – Gambia Chief of Mission, Fumiko Nagano, seized the opportunity to remind the gathering that their technical support and donations have been made possible by the European Union – funded project, which aims to strengthen migration governance, build the capacity of of government stakeholders, media, civil society to communicate…
"This project has been ongoing since August 2020, and it will until October 2022," she said.
Weighing in on IOM support to Gambia, she emphasized that it is revolving around capacity building and training – targeting various gov't agencies as well as civil society organisations, and the media.
She further stated training targeting government communication officers was also held with a view to building their capacity on very controversial areas.
Last year, she went on, a similar donation was made to the Ministry of Information.
The ceremony was chaired by the Principal Information Officer at the Ministry of Information and Communication Infrastructure, Prince B. A. Sankanu.