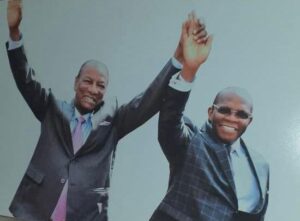 Ibrahim Kassory-Fofana, the last Prime Minister of the Alpha Conde regime was, on Thursday evening, appointed chairman of the provisional executive council of the former ruling 'Rassemblement du Peuple de Guinee' (RPG).
The party's next congress is likely to be held before the end of this year and will determine the ultimate successor to Alpha Conde, who was overthrown in a military coup on September 5 last year. 
In the meantime, the 350 delegates from other regions of the country and from abroad have chosen Ibrahim Kassory-Fofana to lead the destiny of their political party. 
"Yes I accept, yes I accept the Presidency of the Provisional National Executive Council of the RPG ARC-EN-CIEL," Mr. Fofana wrote on Twitter after the election. 
Referring to the tensions undermining the party and the stated ambitions of other leaders, he said: "The first of our responsibilities is unity within the party. I urge the leaders that we are to show tolerance so that all sensitivities compatible with the party line are taken into account".
The task looks difficult for the new boss of the 'Rassemblement du Peuple de Guinee.' 
Party principals such as the former Defense Minister, Dr. Mohammed Diane or the former National Assembly Speaker, Amadou Damaro Camara, an early activist of the RPG, have all expressed displeasure during the extraordinary general meeting. 
This is also the case of Ibrahim Kalil Kaba, the former Foreign Affairs Minister, who is very popular among the youth of the party. 
All of them have the dream of one day becoming the head of RPG.