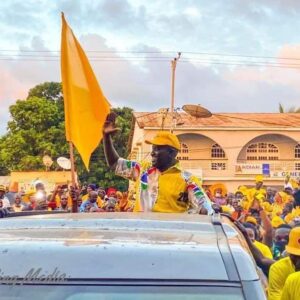 Momodou Sabally of the opposition United Democratic Party (UDP) has vowed to fight on after being dealt a legal blow.
"For me, this is just a test match. The real tournament is yet to start," he told reporters shortly after the High Court dismissed his case for lack of merit.
Following the rejection of his candidacy by the Independent Electoral Commission (IEC) Regional Office, Brikama, Momodou Sabally challenged the decision in court in an attempt to get redress. The UDP's pick for Busumbala constituency stood firm on his grounds to continue his parliamentary bid.
While acknowledging that the Judge acted based on the facts before him, Sabally made it clear he is not going to give up on the fight for his rights.
"I will consult with my party leader and lawyers. And we will decide on the next step this fight is going to take," he added.
Momodou Sabally is part of former Jammeh's officials flagged by the Janneh Commission. He has been from holding public office for a ten-year period.
Sabally took a swipe at the Barrow administration, denouncing the double standard that has been applied against him.
He then called out the Finance Minister, Mambury Njai, and President Barrow's Chief of Protocol, Alhagie Ceesay, saying the duo are also liable.
Sabally further reiterated his resolve to fight against the "oppression meted out on" him…