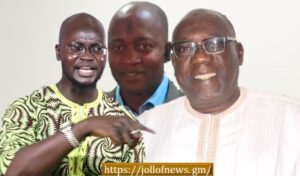 The NPP coalition is currently dealing with pockets of resistance from within as the local government elections loom.
With polls' date yet to be announced by the IEC, storm has already set off in the coalition with NPP and APRC all having their eyes firmly fixed on the Kanifing Municipal and Brikama Area councils.
Former mayoral aspirant Mustapha Touray has declared his desire to run for KMC on an NPP ticket.
Pa Njie Girigara of the same party is also said to be eyeing the KMC top job.
Meanwhile, Doudou Jah of the APRC has been reportedly under intense pressure from APRC militants for him to vie for mayor of KMC.
He recently told our reporter that his fate as regards KMC mayor will be decided by the APRC militants.
"If that's what they want, I cannot say no," he said of the moves for his touted mayoral ambition.
"It depends on the ground covered and we are going to be technical and tactical about it,' he added.
But APRC said the agreement that binds the parties will deal with any situation where there's a need to sit around the table.
"I think this are two mature parties that have gone through all the stages to get to where they are. So, come what may, they will be able to sit down, sitting within the drawing board and compromise; an agreement which will be win-win. That's my opinion and that's what I'm foreseeing," said the APRC spokesperson Musa Amul Nyassi in an interview with JollofNews.
"I'm not foreseeing anything that will bring an end to the alliance.
"Militants are at liberty to make their own conclusions, draw their conclusions based on their opinion but at the end of the day, we are mature parties," added the APRC spokesperson.
"We have mature leadership that should be able to sit together and then trash out whatever difference that may come up in the future," Amul was convinced.
Pa Njie Girigara has meantime warned coalition members against declaring their mayoral ambition now as this , in his words, could have consequences on both the individual and the coalition.