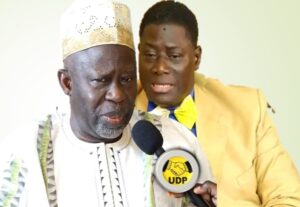 A senior official of Gambia's opposition United Democratic Party (UDP) has expressed what, he described as, utter dismay and disappointment in the party's spokesperson for indicating that UDP was 100 percent interested in reconciliation talk with President Adama Barrow.
"This cannot be true," the official, who preferred not to be named, told JollofNews this afternoon.
"Almamy Fanding Taal and others are now busy on how to butter their own bread.
"They are working on how to feather their nests and in so doing, they would want to use the old man," the senior UDP member contended.
"With all the wars of derogatory and disparaging remarks brought to the backyard of Ousainou Darboe under the command of President Adama Barrow, do you think our leader will bury the hatchet just like that?
"Almamy really made me furious when he hinted that Darboe will receive with arms wide open Fatoumatta Jallow Tambajang's proposed reconciliation initiative.
This is a misrepresentation of the reality," said our interlocutor.
It would be recalled that the UDP spokesperson Almamy Fanding Taal told JollofNews on Sunday evening that UDP will be receptive to any reconciliation talk so long it's directed towards national unity, democracy and from the right channel.
He was making reference to Fatoumatta Jallow Tambajang's proposed reconciliation project between President Adama Barrow and Lawyer Ousainou Darboe.
Taal, however, said the UDP secretary general was yet to receive any formal or informal proposal to sit around the table with President Barrow to reconcile.