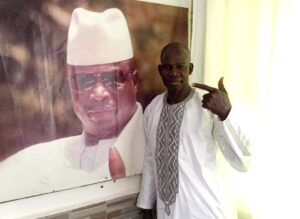 The First Deputy Party Leader of the Alliance for Patriotic Reorientation and Construction (APRC), Ousman Rambo Jatta, has said his party will never convene a press conference over government's White Paper on TRRC recommendations.
Rambo was responding to questions from some APRC militants as to why the party was strangely quiet about the White Paper.
"We are not going to organize any press conference. We have families and blood running in our veins and will never allow Yahya Jammeh to ridicule us again," Jatta retorted.
According to him, since Jammeh had branded the FTJ-led APRC as traitors, they no longer want his troubles.
"Did you hear what Jammeh said in Kanilai that he did not asked us to formed an alliance with President Barrow . He said we are traitors. We are not going to allow Yahya Jammeh to ridicule us again.
"We did what we can for Yahya Jammeh but he doesn't seem to be appriaciative. Yahya Jammeh is not God but a human being like us,
We have blood streaming in our veins and we have families," Rambo pointed out.