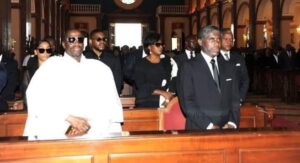 Former President Yahya Jammeh is not only feeling betrayed by his once trusted people but the Kanilai tyrant is also feeling left in the cold by his own body.
A review of a picture of the former Gambian President, taken a fortnight ago, shows the ex-leader struggling with weight loss and skin texture issues.
A picture of the former Gambian President in church portrays a degenerating Jammeh cheek by jowl with his host.
The picture brings to the fore questions around how fast the former President has evolved in terms of weight, his current diet, state of mind and how well he's been looked after by his host.
The photo accentuates significant reduction in tone and intensity of the once shiny skin texture of the former Gambian strongman.
The photo evinces forlorn, effacement of self-worth, glory loss and longing for the past.
It also gives an idea into the former President's new gastronomic life.
Without access to those sumptuous state-sponsored meals and other state-bankrolled gastronomic activities at the Presidency and in Kanilai compounded by a sense of betrayal and raging desire for revenge, both Jammeh's weight and texture are expected to degenerate further as indicated by the picture.
The absence of his trademark cap in the photo also shows that Jammeh is now fatigued because it is the Wollofs who says: A cap doesn't witness the distress of the owner.
Loose rendition.