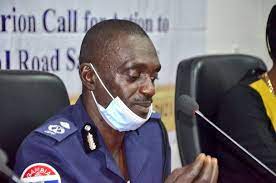 The lack of uniformity in penalties and reported absence of official receipt for unlawful parking has brought the traffic police under severe criticism for perceived corruption.
The maximum fine for unauthorized parking of vehicles is pegged at D2000 but the police said this can be beaten down to D500.
Meanwhile, some people have grown suspicious of the traffic police for not only dealing with offenders selectively but was also suspected of underhand tactics, regarding the towing project.
"They towed my brother's vehicle to the Mobile Traffic Unit today (Friday) and asked us to pay D1500 because the traffic warden said he was in a hurry," explained a complainant.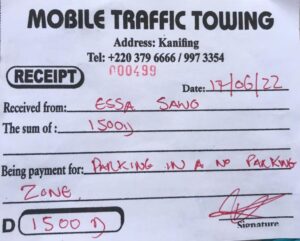 "I think this is wrong. I think penalties should be uniform. You can't be imposing different fines for the same crime," he added.
According to him, his suspicion about the traffic police grew when he was given a headless receipt written with a red pen.
"This receipt doesn't look official. And, worst still it was written in red," he added.
When contacted, the Commissioner of Mobile Traffic Unit, Lamin King Colley, explained that fines for unauthorized parking are negotiable.
"The maximum is D2000 but knowing how difficult it is for some people to pay this, we always exercise understanding," Commissioner Colley said.
When asked about the authenticity of the receipt, he said:"This is a unit receipt. We have our accounts unit and an account with the Guaranty Trust.
"Currently, we have over D200,000 in this account."