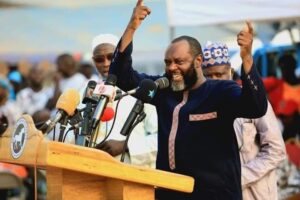 One of President Adama Barrow's senior coalition partners has called on the Gambian leader to show compassion and love to Gambian farmers by re-establishing the 2021 fertilizer price of D750, saying government's current price tag of D2000 for a bag of fertilizer is insane.
Musa Ousainou Yalli Bachilly made similar appeal to the minister of agriculture.
He was speaking to Star FM's Wake-up Gambia show this morning.
"Are they playing with us," Bachilly asked rhetorically.
"Why has the price shot up like that? President Barrow and the agriculture minister, I am appealing to you to show mercy to the farmers. Love them," he stated.
He reminded President Barrow of his clarion call on Gambians to feed from home-grown stuff.
"You are the one who said let's go back to the land and eat what we grow," he reminded the President.
"Fertilizer at D2000 is high in my view. Reduce it to D750 for the sake of God," he added.
He pointed out that if at all the fertilizer was ordered before the invasion of Ukraine, then the previous price of D750 must prevail.
"If at all it was in December that the order was made, leave the price at D750. I don't want you to fail. Only your single connection is enough to buy the entire fertilizer. You can even make appeals to philanthropists to aid," he advised Mr. Barrow.
"The D2000 price is mad. Its crazy. Its too high," he stressed.