The director general of the Gambia Tourism and Hospitality Institute (GTHI), Momodou Singhateh, has said the agri-food processing sector plays a pivotal role in the economic development of The Gambia.
The GTHI boss made the disclosure during the opening of a 3-day (12 – 14 June) agri-food processing curriculum validation ceremony that commenced on Monday.
"Today, we embark on a journey that holds great promise for the future of our beloved nation's agriculture and food processing sectors," Mr Singhateh said.
"This workshop marks a critical milestone in our continuous efforts to enhance the quality of education and training in agri-food processing, ensuring that we equip our students with the necessary skills and knowledge to thrive in this vital industry.
"We recognize that the agri-food processing sector plays a pivotal role in the economic development of The Gambia. By adding value to our agriculture through processing and innovation, we can generate employment opportunities, increase exports, build linkages with tourism, and ultimately improve the livelihoods of our citizens. Therefore, it is imperative that we have a curriculum that is robust, relevant, and aligned with the needs of the industry."
He also expressed gratitude to partners such as the GIL and ECOWAS Commission for providing the material support which he said made the event a success.
He also appreciated efforts made by experts, professionals, and stakeholders who dedicated their time and expertise to contribute to the curriculum validation process, adding: "Your insights and industry experience are invaluable in shaping the future of agri-food processing education in our country. Together, we can ensure that our curriculum prepares our students to be at the forefront of technological advancements, sustainability practices, and market demands."
Moreover, he encouraged the participants to be engaged in active discussions, exchange ideas, as well as challenge existing concepts during the three days.
"Let us foster an environment of collaboration, innovation, and shared learning. Through this workshop, we have the opportunity to tap into the collective wisdom of experts from diverse backgrounds, fostering a curriculum that reflects the best practices and latest developments in agri-food processing," Mr Singhateh stated.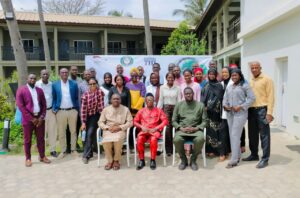 He added: As we embark on this journey of curriculum validation, I am confident that Together, we will create a curriculum that not only imparts technical knowledge and skills but also instill a passion for innovation, entrepreneurship, and sustainable practices."
He reiterated that their ultimate goal is to produce graduates who can drive positive change, contribute to the growth of the country's agri-food processing industry and become ambassadors of The Gambia's culinary heritage.
He also advised the participants to robustly validate the agri-food processing curriculum to ensure that it meets the highest standards of excellence and equips students for success.