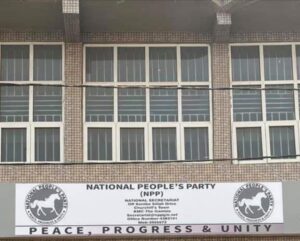 The Youth Coordinator for the National People's Party – (NPP) in the West Coast Region has vowed to rally the youth of the region to barricade the NPP regional bureau in Brikama.
Regional Youth Coordinator Abdou Darboe did not give any date for the avowed siege on the NPP regional bureau but was unambiguous of their desire for a system change.
"The system must change or we change the system," he vowed.
In a gathering with some members of the NPP West Coast regional executive, Darboe said they had no intention to break party rules but youth would be forced to rebel if they continue to be elbowed by those, he called, Old Guards.
"We are no longer in the UDP era. Let the old guards, blocking the youth in the region realise that the time has come for them to bow out," he stated.
"There is a three-man executive in the region undermining the party (NPP). They don't want youth to thrive and they will frustrate any promising youth in the party," the regional youth coordinator claimed.
According to him, NPP's dismal show in West Coast Region in the last legislative elections was as a result of a protest staged by the youth of the region.
"The party never kept its promises to the youth of West Coast. Before the Presidential election, youth were the darling of the establishment. They promised us heaven but now that their bread is buttered, they tend to ignore us.

"NPP's support in West Coast will stumble more as they continue to marginalise the youth," he presaged.
Meanwhile, in the last general election, NPP won in all the constituencies in the region except in the Fonis.
However, the party managed to win only one seat in the entire region in the past National Assembly elections.
And, according to West Coast regional youth leader, this downward trend will continue unless the youth population in the region were well-treated by the party.
"We sacrificed everything for the NPP from the formation to the victory at the presidential election. We mobilised and made promises only to be dumped," Darboe complained.
He said he wanted President Barrow to know that nothing was going well with the youth of West Coast Region.
"You used us to make promises to them (youth). We did and they voted. Now, how are you reciprocating this? Nowadays, no NPP official will pick your calls and everyone of them is too busy for the people," he added.
"But the system must change or we change the system," he stressed.