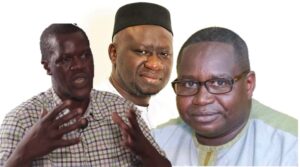 The Minister of Religious Affairs has been approached to broker peace between the Gambia government spokesperson and proprietor of Home Digital FM, JollofNews has learnt.
The relations between Pa Modou Bojang and Ebrima G. Sankareh was wrinkled last week following Bojang's perception of haughtiness on the part of the government mouthpiece.
Pa Modou said he was being bullied by the government spokesperson for not 'condescendingly' addressing him the way the government spokesperson would have preferred.
This has generated a social media storm with hundreds of Pa Modou's followers, taking the government spokesperson to the guillotine.
Meanwhile, sources have informed JollofNews that some individuals have approached Hon. Abba Sanyang to work on bringing the two around the table to iron out the wrinkles on their relations.