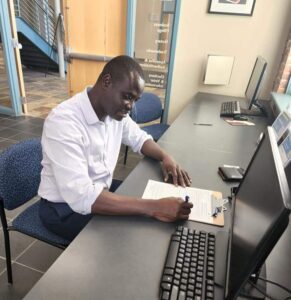 Following several weeks of community interactions, Dr. Omar Bah has finally filed his declaration of candidacy for US Congress, JollofNews can report.
Dr. Bah filed in the declaration on Wednesday to represent Rhode Islands Second District.
Born in Mbollet Ba in Lower Niumi, Dr. Bah served as news editor with the defunct Daily Observer before fleeing into exile in 2006 after he was declared wanted by the former government.
He moved to the US where he became an instrumental figure in humanitarian work.
He was the executive director of Dream Centre; an organization dedicated to refugee welfare.
Meanwhile, Gambians back home have started sending best of luck messages to Dr. Bah as he looks forward to becoming Gambian-American Congressman.
"Good luck," wished Lamin Cham, editor-in-chief of The Standard newspaper and Dr. Bah's former colleague.
"May Allah be with you," wrote Lamin Mbaye.
The Executive Director of the NGO Beakanyang, Nfamara Jawneh, wrote: "Good luck."
And, the development was being characterised by the Gambia Press Union (GPU) secretary general as great.
"Great! Congratulations and good luck," GPU SG Modou Joof wrote on Dr. Bah's Meta page.