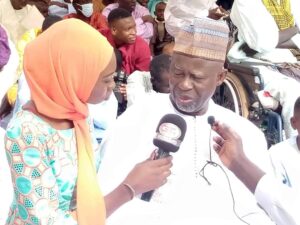 Lawyer Ousainu Darboe has called on Gambians to maintain unity as he lamented the 'hard economic times' that characterised this year's Eid.
The UDP leader also expressed his unhappiness about businesspeople, using the Ukraine war to inflate prices.
Mr. Darboe pointed out that this year's Eid Ul-Adha (Tobaski) cannot compare favorably to last year's feast.
"Things I was able to do last year, I was unable to this year all because of hard economic times," Darboe told Gambian Talents Promotion in an interview at Pipeline mosque.
"This year's Tobaski came at turbulent economic times…depreciation of the Dalasi and mismanagement of the economy," he lamented.
The UDP secretary general meantime advised those taking advantage of the masses, using the Ukraine problem, to disengage.
"They claim Ukraine, Ukraine…but sheep is not from Ukraine. Let us not put blame on Ukraine for everything. We have allowed our Dalasi to fall but we don't need CFA for livestock from Saloum and Fulladu," the UDP leader pointed out.