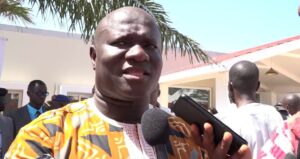 I stand with Mama because she was a minor by the time she got impregnated by a man, whether by force or consent hence she was raped. I stand with Baby M because he was a child who did not ask who was to be his mother and father. The manner of his death is a violation of his rights and dignity. Therefore, above all else, I want justice for Mama and Baby M. Perpetrators against these children must be brought to book asap.
I stand for justice and accountability for both victims and alleged perpetrators. Therefore, I demand that Bob Keita as the accused be accorded fair trial in full. This case has taken too much time unjustifiably and unreasonably. This case is about one man being accused of raping one girl in the most recent past. Hence it is unjustifiable for the case to take two years during which time the accused is kept in remand entirely.
Yes, rape is an unbailable offence as per our laws, which I do not fully agree with, but that is the very reason that accused persons must be prosecuted diligently and urgently to determine their innocence or guilt. What if the accused turned out to be innocent at the end of the trial when he or she has already spent considerable time in jail? How do you compensate that person for the lost time, and above all the stigma and trauma he or she had to suffer? It is high time we demand the best from our public institutions and officials knowing that life, dignity, and the future are at stake.
For that matter, I blame the Inspector General of Police and the Attorney General as well as the Chief Justice for failing to investigate and prosecute this matter professionally, judiciously, and diligently. It is unacceptable that a rape case that does not involve multiple accusers spanning several years should take so long to conclude.
Between the police, AG Chambers, and the courtroom, this case should have long been concluded if due diligence was indeed applied. The fact that this case is incessantly being adjourned multiple times by the Judge, sometimes for the flimsiest reasons clearly indicates the failure of the Chief Justice to ensure professionalism, effectiveness, efficiency and accountability of courts and judges. The mishaps of the justice delivery institutions cannot be exploited to indict or exonerate the victims or the alleged perpetrator.
Looked at more closely and critically, this case tells us that there is something fundamentally and hugely wrong with our State and society! This case exposes a national malaise manifested in a culture of failure, irresponsibility, and a lack of accountability that can be found in our institutions, processes, citizens, political parties, civil society, media and certainly the Executive, Judiciary, and the National Assembly. Yet we allow and accept it! The Gambia is definitely not on the right path, and we are not helping it!
For example, since the eruption of this matter, one can see how the society became engulfed, mostly shamefully in it. Instead of focusing on the due process in the best interest of both Mama and her child as well as for the alleged perpetrator, one could see widespread and utter interference at the very onset from diverse quarters including political actors, even from some feminists, and activists as well as public officials, journalists, and other prominent citizens. Since then, both supporters and opponents of both Mama and Bob engaged in a rather shameful counter bantering which has only served to derail and delay this case thus bringing untold suffering to Mama and Bob, and above all irreparable damage to Baby M.
I would therefore call on the Attorney General and the Inspector General of Police as well as the Chief Justice to review their respective roles with a view to put in the necessary resources with utmost interest and commitment to deliver and be seen to deliver justice in this matter without further delay. Sexual and gender-based violence are endemic in Gambian society that must be confronted with urgency and without compromise.
The trend of this case so far is undermining the rights and protection of girls and women by downplaying and toying with rape and sexual harassment. It will rather be unfortunate and tragic if we allow rape and sexual harassment to become a matter of bantering and bickering in which victims are disbelieved, ridiculed, and ignored while perpetrators are protected and favoured.
For example, to brandish the picture of the deceased child to argue that it is different from the face of Bob but resembles another man is most inhuman. To use that to now discredit the DNA test and therefore launch a campaign, 'Free Bob Keita' is utterly repugnant and irresponsible.
To fellow citizens, if we strongly believe in the innocence of Bob, then demand the IGP, AG and the Chief Justice make their institutions perform urgently and diligently. But do not downplay, ridicule, or ignore the rights and dignity Mama and Baby M. If you care about sexual and gender-based violence as a fundamental human rights issue, demand the authorities to handle this case with the professionalism, diligence, and urgency it deserves.
Right now, not only Mama, Bob and Baby M are being harmed, but the country is losing its soul and innocence for we are trampling on the rights, dignity and future of current and potential victims who are usually children, girls, and women.
For The Gambia, Our Homeland