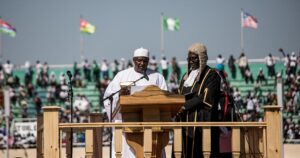 UDP leader has indicated that President Adama Barrow is ruling The Gambia without the popular mandate.
The IEC has given President Barrow a comprehensive victory over his opponents in the last general election but Lawyer Ousainou Darboe asserted that Barrow has cheated his way through to the Presidency.
"We (UDP) lost the election because of cheating at the registration," Lawyer Darboe told Kerr Fatou Friday.
"We have evidence of people being registered before the opening of the registration centres," he added.
Meanwhile, centres were supposed to open at 8am and close at 5pm.
According to Darboe, people were registered as early as 7 o'clock in the morning.
"And, people got registered even after 5:00pm. Some even 8 o'clock in the evening. This must have been in the thousands," explained the UDP secretary general.
He went on: "And of course latter part, we have evidence of people registered after the close of registration throughout the country."
Mr. Darboe indicated that Barrow has won the election through cheating.