Rarely has a case in The Gambia aroused as much emotion and controversy as the alleged rape case involving Bob Keita and the younger sister of his estranged wife. As the story unfolds, it becomes clear that this is a family tragedy that has regrettably been escalated into a possible murder inquiry of a child at the centre the alleged rape.
Looking at the case in its entirety, and having the experience of assisting a victim of sexual abuse navigate the process of getting accountability and justice, I can say categorically that our society needs to re-evaluate our norms regarding sexual crimes. Our institutions, (Courts, Social Services, Law Enforcement, Ministry of Women and Family Affairs), probably reflecting our societal norms, are woefully unprepared and professionally ill equipped to deal with cases of sexual and gender based violence. A total overhaul is required.
As a Biomedical Scientist and a collaborating partner with a United Kingdom accredited lab that does Legal and "Peace of Mind" DNA Testing, I want to highlight a few points relating to paternity DNA testing.
From the onset, let us be clear about what the court ordered DNA testing in the case of Baboucar Bob Keita vs the state is about. It is simply to determine the Biological Father of the tragically deceased baby Muhammad. How lawyers and the courts will extrapolate this information to prove an alleged rape that happened more than 2 years ago is in a domain beyond my experience.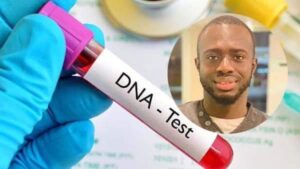 I know that legal DNA testing to establish parentage is not ordinarily available in The Gambia. Not because of lack of expertise, but because of lack of equipment. Tests involving many social welfare cases sent to labs in Dakar, Senegal are still languishing in limbo for the past 2-3yrs.
Since the DNA testing is not likely to be performed in the country, and for the results to be indisputable, the parties must make sure that certain key pre-analytical variables are established and agreed to.
1) The name of the Lab performing the test must be known to all parties.
2) What accreditation does the lab have; normally ISO17025 is required. It is not enough to say that we sent the sample to Senegal.
3) Has the testing Lab sent the parties or the courts a Standard Operating Procedure (SOP) of their preferred sample collection method.
4) Crucially, an approved "chain of custody" from sample collection to result rendering must be established. This will involve issues of traceable sample collection, labeling, and identification. Appropriate sample collection environment. Preservation of the collected sample. Packaging in a tamper-proof carrier. The mode of transport to the testing lab, and finally distribution of the final report.
This case should be a wake up call for Gambia and Gambian authorities to make sure that our institutions are prepared to meet the numerous challenges of the 21st century.