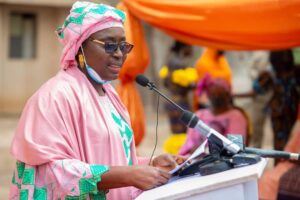 The Gambia is among more than 120 countries commemorating World Breastfeeding Week.
The gender minister has used the occasion to express her willingness to reinforce the capacity of all actors in the breastfeeding business with a view to safeguarding and promoting the breastfeeding culture.
"I will focus on strengthening the capacities of actors such as government,health systems, workplaces and community to protect, promote and support breastfeeding across the different levels,"gender minister Fatou Kinteh resolved in a statement she delivered on the occasion of the annual global event.
According to her, the objective of this year's commemoration is to 'inform people about their role in strengthening the warm chain of supporting breastfeeding'.
"To engage individuals and organizations along the warm-chain to support breastfeeding, to galvanize action on strengthening capacity of actors and systems for transformational change," Mrs. Kinteh stated.
She stressed that these objectives should rally individuals, communities and nations into working together to empower parents through the creation of an environment conducive to optimal breastfeeding.
World Breastfeeding Week is meanwhile commemorated from 1st of August running through to 7th.