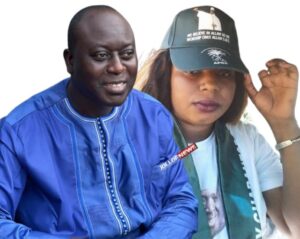 The battle-lines for an emotional warfare have been drawn for one of the wives of the minister of works and transport.
Ms. Manyima Bojang threatened that she was targeting Sillah's wife but has reached out to JollofNews to say it was not indeed Mariama Barrow-Sillah.
"I never targeted Mariama but me and Mariama are victims of Hon. Ebrima Sillah," she clarified.
"I'm targeting his wife. It's the wife I'm targeting," PYFC TV proprietress also said to be Sillah's fiancee, Nyimsi B, told one Aisha as she requested the "plethora" of nude pictures and videos of her and Sillah from her.
According to Nyimsi B Gambia also referred to as Madam Jobe, she used to have an overabundance of compromising videos and naked pictures of her and the transport minister but had deleted them out of fear.
She is now pleading with Aisha for her nude materials.
"I deleted my pictures and videos but I know you have our nude pictures and videos. The naked videos and pictures I sent to Ebrima are too much. I want to use them in court as pieces of evidence," she was heard saying in the intercept.
Nyimsi B also reminded Aisha of how she used to "serenade" minister Sillah and dance for his amusement.
She explained: "I will sing and dance for him. I will then transmit all those videos to him. And, most of these videos are compromising videos."
Several fruitless attempts were meantime made to reach Sillah for comment (s).