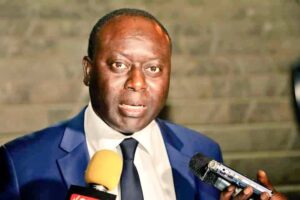 The mental toll of bringing three wives under one roof could be exerting but one of the wives of transport minister Ebrima Sillah did not buy into the notion among some members of the minister's family that he was having some mental issues when it became obvious he'd already perfected plans of marrying two wives in not so considerable length of time.
The wife laughed of the fears expressed by some relatives that the minister was at the time mentally perturbed.
She believed that her transport minister husband was feigning mental health problems because the sheer weight of marrying three wives had started to dawn on him.
In December of last year, Hon. Sillah tied a sweet conjugal bond with his Dakar wife.
It was also reported that after this development, another 25-year-old girl was also lined up for the minister.
One of his wives did not see any sense in this.
But the main source of her heartbreak was Dakar because according to her, she heard about her husband tying the knot in Dakar from one Bakary Trawally in 2019 but when she spoke to Mr. Sillah about it, he dismissed it as rubbish.
"Everything crashed on me like that. All these marriages just cascaded on me like that," she was heard saying in a phone call intercept.
"He did this (Dakar marriage) in December and concealed everything from me up to April," she explained in the intercept.
She felt utterly betrayed and disappointed when she finally learned that her husband had indeed made another addition to the family from Dakar.
She was taken off guards because according to her, minister Sillah always exhibited restraint when it came to ladies.
"He don't look women in the eye," she explained.