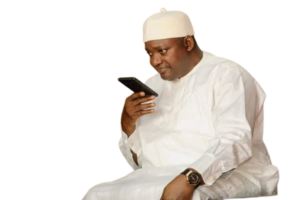 Release of awkward and critical audio recordings about senior NPP and government functionaries have become one of the fashionable tools used by political opponents to attempt to rattle the party's cage but President Barrow said he's unfazed by recordings critical of him.
From the sexually-graphic audio recordings of NPP-backed BAC chairman Sheriffo Sonko to top NPP official Dou Sano and transport minister Ebrima Sillah and recording of a citizen about how an NPP officials allegedly snatched his wife through the privileges accorded him by the party, NPP has indeed incurred a fair amount of reputational damage.
Audio recordings about the current Bakary Badjie Per Diem Scandal that rocked the government this week have also been circulating.
However according to President Barrow, he's unmoved by audios critical of him.
"If you criticize President Barrow in an audio, it doesn't move me," Mr. Barrow boasted.
"They are not many (audio producers). We enjoy greater numerical strength over them," chuckled the President.