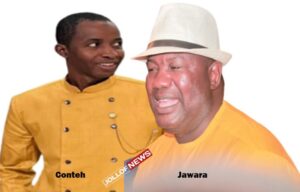 Gambisara village in the Upper River Region of The Gambia will mobilize tricycles to combat the threat of deforestation in the community.
This innovative anti-climate change initiative would be financed by philanthropist and businessman Dr. Abubakary Jawara and Mr. Essa Conteh Jula.
The idea is to adopt a more sustainable approach to climate change reduction.
Meanwhile, Gambisara community has plans to sustain 200 tree seedling plants.
And for them to grow into the strong trees the community would want them to, in order to effectively serve their climate change mitigation purpose,they needn't be only rain-fed.
They need to be maintained during and after rainy reason.
This is what led to the devising of the inventive strategy of mobilizing tricycles during the dry season to water them.
Dr. Abubakary Jawara and Mr. Essa Conteh Jula have become so excited with the Gambisara reforestation project that they are poised to dig deep into their pockets to financially resource it.
Meanwhile, The Gambia is currently in the frontline of the climate change crisis as the country grapples with the threats of deforestation, rising sea levels, flash floodings among other climate change challenges.