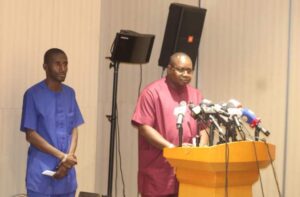 The Gambia government has clarified the impacts of human activities on the Tanbi wedlands as Banjulians are raising concerns about the continued depletion of the mangroves cover in the capital city.
The Gambia government spokesperson, Ebrima G. Sankareh, told reporters Thursday that the Jammeh regime allocated in 2006 part of the natural barrier to Banjul City Council (BCC), opening the floodgates for the construction of a good number of industrial facilities in the area.
The country's capital city was recently hit by flash floodings that caused severe damages in many areas, especially in Tobako road. The Banjul Rehabilitation Project was initiated by government to address the issues of drainage and sewage systems.
Sankareh assured that government is doing its best to regulate constructions that pose threats to the mangrove cover, and the sewage system.
In a similar vein, the Minister of Works, Ebrima Sillah, reminded the media that it was through an executive order that the previous government gave permit to people to build in protected areas.
"Since 2006, they (BCC) have been issuing permit for the construction of warehouses for specific beneficiaries," he revealed.
He then added that his Ministry sounded the alarm bell over the escalation of construction around the Tanbi Wetlands.
"This was months before the floodings," he said. "President Adama Barrow has listened to that advice, and has given directives for the Minister of Lands to review the allocation of lands in the area."
The major press conference was graced by a good number of government officials and other stakeholders. It came almost a week after the collective Arr Banjul spearheaded a protest march, calling on government to put a halt to construction around the wetlands.
Mboguma Jeng, one of Arr Banjul's leading voices, reiterated their call for government to de-industrialize the Tanbi Wetlands complex.
In a statement issued on Monday 22nd August, 2022, and seen by JollofNews, the collective expressed their commitment to "preserving the island to protect us from further sea rises and inundation ; restoring Tanbi Wetlands to continue to be an attractive areas for birds and a breeding ground for fishes; and preserving the livelihood of those who rely on it for their daily survival – the oyster sellers etc.