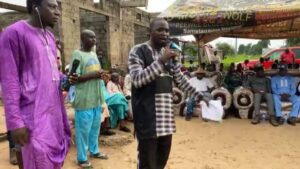 Former local language journalist Yusupha Darboe has now directed some of his energy to the mobilization of grassroots support for President Adama Barrow.
The Mandinka news reader said people would be surprised to see him with a microphone on a political platform but was quick to add that the time has come for national cohesion and progress.
"What is of essence now is unity and the need to concert efforts for national development," Darboe told a sizeable gathering of NPP supporters in Sanyang on Saturday.
The event was organized by Fula Kunku Kabilo and according to the former Mandinka news reader on Star FM, the clan consisted of people of different political backgrounds but that the clan elders have now expressed the resolve to rally their support behind President Barrow.
"I'm also ready to contribute to this process," Darboe posited.
He further clarified that he was a clansman of Fula Kunku Kabilo before becoming a news reader.
"And when I close from work, I join the same Kabilo. What is more significant here is to unite forces for national development," he stated.