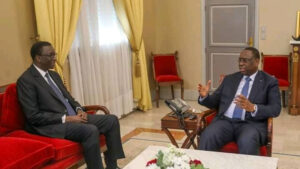 Senegal's former Foreign Affairs Minister, Amadou Ba, bounced back Saturday as President Macky Sall's pick for the post of Prime Minister.
Shortly after being received in audience by the Senegalese leader, Prime Minister Ba expressed gratitude to the President for renewing the confidence bestowed on him. He then reaffirmed his commitment to deliver on expectations.
His appointment came 19 months after the post of Prime Minister was abolished with a view to 'moving towards a 'fast-track' delivery for the Senegalese government. But the U-turn that ensued has left many observers wondering whether the country is really on the right path.
As the country is facing mounting challenges, Prime Minister Bâ is expected to lead newly appointed Cabinet for the next 15 months.
The 38-member government is tasked with the responsibility to restore hope as Macky Sall is sending signals from all angles that he will inexorably verge on third term.
As the country is bracing for the 2024 Presidential election, concerns are mounting over the polarisation of the political spectrum. The opposition has made it clear they will bar President Sall from vying for a controversial third term.