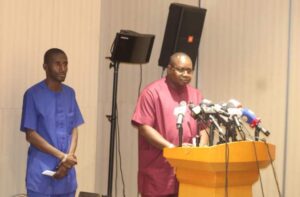 The Gambia Government condemns in the strongest terms, the recent spate of homicides in the country.
Within a week, five young men lost their lives in Jahanka, Central River Region, Bakau and Kololi in the Kanifing Municipality, Sinchu Alagie and Nyofelleh in the West Coast Region all in gruesome circumstances that contradict human decency, due process and respect for the sanctity of life.
During a hotel briefing in Manhattan, New York, President Adama Barrow expressed his profound sense of shock and sadness over these heinous crimes claiming the innocent lives of young men. Mr Barrow commiserates with the families of the victims while assuring them of vigorous adherence to the due process of the law in investigating the killings and swift delivering of justice.
Meanwhile, President Barrow called on religious and traditional leaders, parents, schoolteachers, business operators, youth organizations and community influencers to complement his Government's efforts in promoting a culture of peaceful co-existence.
The Gambia Government appreciates The Gambia Police Force and its sister security agencies for swiftly responding to distressed calls over cases of domestic violence and similar incidents.
Citizens are equally encouraged to desist from taking the law into their own hands as various options of peacefully redressing grievances are available across the country.