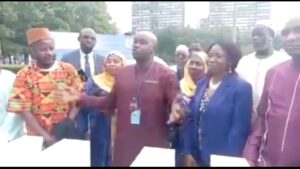 Dou Sano has described those, who turned up in New York on Thursday to protest against Mr. Barrow, as bunch of pathetic Gambians better off on farms in The Gambia.
President Adama Barrow and his delegation were yesterday embarrassed in New York when some Gambians gathered there to denounce the Barrow government.
But according to President Barrow's political adviser, the protesters were part of Gambians who did not have anything meaningful to do in the US.
"Those who have important matters to attend to did not have time for a protest, the tail of which cannot be distinguished from the head," Dou told a fistful of Gambians who came to show solidarity following the embarrassing development.
"Nobody can make any sense out of what they wrote on their banner. These people should've been in The Gambia, tilling the soil,"he chided.
For Mr. Sano also in New York with President Barrow, the demonstrators have no basis for their protestation because words like dictator and violator of rights were apparently absent from the chants during the protest.