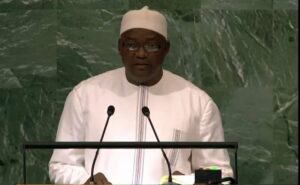 As the Western Sahara crisis continues to tear the African continent apart, Gambia's Adama Barrow has thrown his weight behind the Sharifian Empire of Morocco.
"Moroccan sovereignty and territorial rights over its Sahara region should be recognised by all," President Barrow said in a statement delivered today at ongoing United Nations General Assembly (UNGA) which is being held in New York, USA.
For over thirty years, Morocco and Polisario Front are disputing the former Spanish colony. While Morocco is still claiming that its sovereignty covers Western Sahara, the Algera-backed Polisario Front remains inflexible on its position: the need for UN to hold a referendum on Saharawi self-determination is not negotiable.
Barrow seized the opportunity to reaffirm The Gambia government' "strong support for the Moroccan Autonomy Initiative," which, he said, "serves as a realistic compromise in accordance with UN resolutions. "
Horn Of Africa
Diving into one of the longest crises in the Horn of Africa, President Adama Barrow warned that recent "developments in the Horn of Africa continue to be a source of concern."
He further called on "the leaders of the region and the international community to explore new options to restore peace in the area."
As the Somalia-based Islamist insurgency group Al Shabab continues to carry out attacks across the region, Barrow reiterated the need "to come together to jointly assist the region to combat terrorism through greater cooperation and intelligence sharing."
Outlining the enormity of the challenges lying ahead, President Barrow made an appeal for "considerable international emergency aid" in order to contain the humanitarian crisis.