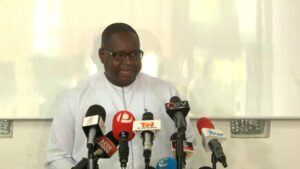 The Gambia government spokesperson might not be of the fighting age but the dexterity that he claimed to have displayed against Doomi Reew Mi made him a force to be reckoned with.
Government mouthpiece Ebrima G. Sankareh had a rude interruption to his meal at a New York restaurant on Friday.
According to his narration, he went to the restaurant alongside the Personal Assistant to the President Mr. Lamin Cham, presidential doctor Dr. Abubacarr Sowe and his friend, Saibo Tunkara, shortly after President Barrow's UN speech.
Meanwhile, a video circulating on social media showed Mr. Sankareh at a breakfast table, savouring his meal.
It did not take long before the government spokesperson and the one filming him clashed.
The man goes by the alias Doomi Reew Mi but he was in for a rude shock as Mr. Sankareh inched towards him, conveniently wrestled him down and secured him to seize the phone from him, JollofNews heard from Sankareh's explanation.
"He was screaming out his mother's name," the spokesperson said with satisfaction and a sense of accomplishment.
The police later arrived at the scene to diffuse the tension, JollofNews has learnt.