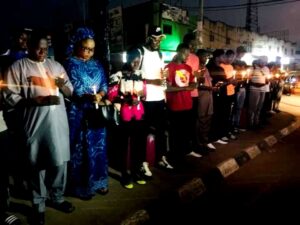 Candlelighters converged Friday night on Westfield Junction, Serrekunda, to hold a vigil and prayers for the loss of 66 young lives due to acute kidney injuries (AKI).
"As young people, it is time that we get up and stand up," activist Neneh Freda Gomez told a group of 'patriotic Gambians' who gathered to stand by the victims'families.
The 'senseless' death of dozens of children has triggered a massive response across the country. A good number of candlighters are blaming the authorities for failing to live up to expectations.
"This is just not right!" she exclaimed while deploring vehemently the death of "66 young peoples."
"Are we going to keep quiet until they kill us all?" she quizzed.
Taking a swipe at the Minister of Health, Dr. Ahmadou Lamin Samateh, she called for his resignation.
"I am not going to keep quiet. We'll continue the advocacy to ensure that people will do the needful," she stated.
She accused Minister Samateh of spewing false informations about the AKI outbreak, commending World Health Organization (WHO) for shining a light on the death of 66 young lives.
Neneh Freda Gomez made it clear that the lies and manipulations spearheaded by the Ministry of Health should stop.
"Now they are murdering our children. Enough is enough," she added. "Justice for the 66 children!" she voiced out.
Added her voice to the chorus of recriminations, the Vice – Chairperson of the Coalition of Progressive Gambians (CPG), Fanta Mballow, said women should make their voices heard.
She then called out health authorities for perpetrating the "murder of 66 children."
"We are demanding the resignation of the Minister of Health," Fanta Mballow emphasized.
Other speakers expressed similar sentiments, urging President Barrow to relieve the Minister of Health from his post.