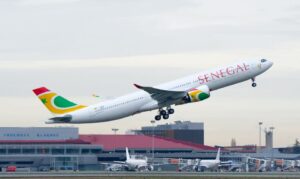 Air Senegal has announced it would suspend its flights on the Central African route by October 30 because of its lack of profitability, JollofNews has learnt on Tuesday.
In a statement on Monday, the Senegalese national carrier said the decision was necessitated by poor revenue from the triangular route since began flying there in March 2021.
Air Senegal's Central Africa route serves Benin, Cameroon and Gabon, where it faces stiff competition from more illustrious airlines such as KLM, South African Airways and Air France.
Its forerunner Senegal Airlines was saddled with massive debt and eventually forced to shut down.
The coronavirus pandemic has had a negative effect on the aviation industry worldwide and carriers in Africa are still struggling to remain in the skies.