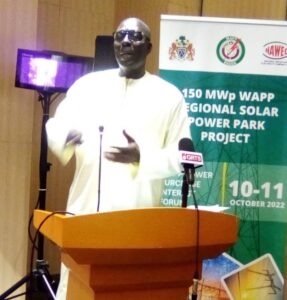 As Gambia is making giant strides towards clean energy, the Minister of Petroleum and Energy, Abdoulie Jobe, has reiterated Tuesday government commitment to the150 MWp West Africa Power Pool (WAPP) regional solar power park project to be implemented in Soma, Lower River Region (LRR).
In his element, Minister Jobe reminded participants that the project is not a Gambian project but a regional integration project that was triggered by ECOWAS electricity master plan.
Amid a changing energy landscape, experts and directors of national power utility companies of Gambia River Basin Development Organisation (OMVG) have sealed a deal aimed at making sure WAPP major solar project in Gambia is viable.
He lauded the remarkable progress made Gambians with the view to taking the project to advanced stage. But he was quick to add:
"All of us have participated to attain the results that we have."
Jobe further stated that the development of the solar power project comes at a time when the global and regional energy is shifting from fossil fuel generation to renewable energy "as a competitive, renewable source of power to support inclusive socio-economic development."
He then took the opportunity to highlight the power purchase agreement between Gambia and Senegal, insisting that the model could be replicated across the Western Africa subregion.
Similar initiatives, he went on, are being scaled up in the region as Côte d'Ivoire is sharing power with neighbouring countries.
In November 2021, Gambia gov't endorsed its electricity roadmap, paving the way for the transition to clean energy for the next twenty years.
"Good neighbouriness and coexistence will get us to move forward," he voiced out provoking a wave of applause.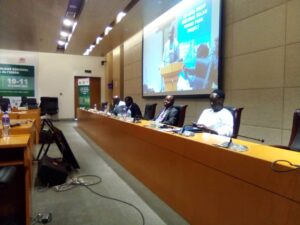 "A a time when combating climate change, alleviating energy poverty and promoting regional take center stage in the ECOWAS agenda for sustainable development, we, as member States, have a responsibility to create the enabling policy and regulatory environment to address these challenges," he added.
Jobe said the government of The Gambia is steadfast and resolute in supporting the development of utility scale solar PV project, which has been in the strategic electricity roadmap as a least cost generation option in The Gambia.
Meanwhile, participants wrapped up the two-day forum with the adoption of a final communiqué, indicating that Gambia's "energy surplus could therefore be exported to the OMVG member countries, namely, Guinea, Guinea-Bissau and Senegal.
The communiqué emphasized the fact that the "Regional Electricity Market under implementation by the WAPP will facilitate electricity exchanges between countries."