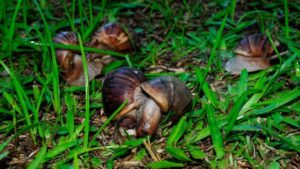 A neck of the wood in the Gambian coastal town of Gunjur is currently under siege after invasive snails arrived there and refusing to leave several weeks on.
The creatures have been causing mayhem to crops and playing mischief to farmers since arrival almost two months ago.
Farmers there have spoken of unprecedented regenerative capacity of the snails this farming season.
The invasive snails have been causing destruction to crops and plants for the past few weeks, farmers told JollofNews.
The matter has reportedly been brought to the attention of the regional agricultural authorities but farmers were "advised" to engage the snails physically.
"The agric. researchers believed the snails could not be tackled biologically or chemically but I believe biological or chemical warfare is the only way out of this problem," opined one local farmer.
"They've devoured most of my crops and many are still tenaciously hanging onto the leaves, twigs and stalks. Their prehensile body makes it pretty tough to deal with them," another farmer told this medium.