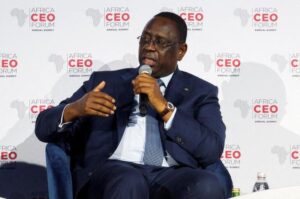 Senegalese President Macky Sall, and Chairperson of the African Union (AU) has called for 'constructive' dialogue between Rwanda and DR Congo following deteriorating ties between both countries.
In a joint statement released on Sunday, President Macky Sall and the Chairperson of the African Union Commission (AUC) Moussa Faki Mahamat, noted that they express their concern at the deteriorating situation particularly in Eastern provinces in the DRC.
"They call on the parties to establish an immediate ceasefire, respect international law, the safety and security of civilians and the stability at the borders of all countries in the region," the statement reads in part.
The plea comes only two days after the Kinshasa government expelled, on their territory, Rwanda's envoy Vincent Karega, a decision they said was largely hinged on allegations that Rwanda continues to support the M23 rebellion.
Various reports indicate that the M23 outfit gained control of more territory in DRC's restive east.
Rwanda has since dismissed the claims, saying that it is rather regrettable to expel its envoy in DR Congo and also seeing that Kinshasa continues to scapegoat Rwanda to 'cover up and distract from their own governance and security failures."
"In this regard, they call all the parties to participate in good faith in the third inter-Congolese peace Dialogue in Nairobi from 4th to 13th November this year," the statement added.
According to the statement, both leaders are calling on stakeholders to engage in a constructive dialogue within the existing mechanism of the African Union's Peace, Security and Cooperation framework for the DRC and the region as well as the Eastern African Community's Inter-Congolese peace dialogue.
"They express their full support to the Luanda roadmap aimed at normalizing the political relations between DRC and Rwanda stressing that initiatives by the AU, EAC and ICGLR are complementary and mutually reinforcing."
They also encouraged President João Manuel Gonçalves Lourenço in his mission as facilitator of a constructive dialogue between both countries.
(APA)