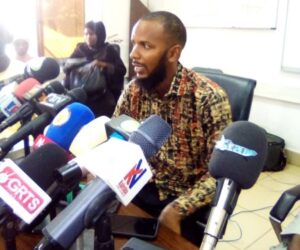 As the Acute Kidney Injury (AKI) is trickling through the country, the Medicines Control Agency (MCA) Regulatory Officer, Tijan Jallow, has disrupted all the assumptions about AKI.
Speaking to journalists during a press conference held Monday at the Central Medical Stores in Kotu, Jallow acknowledged the ambient panic triggered by AKI.
The Gambia has been hit by AKI crisis that has left a good number of young souls dead. A situation that prompted World Health Organization (WHO) to sound the alarm bell, flagging four India-made cough syrups.
MCA's top expert revealed that out of the 70 kids that succumbed to AKI, some of them died without taking any medication.
Far more disturbing, Jallow added that some kids took a medication that is not contaminated but died.
"Science is based on evidence. We cannot just narrow our angle on medication," he said in an effort to reset the assumptions people have on AKI.
He further indicated that they have realized that 95% that died are from flooded areas.
"Urine, blood samples were collected from kids that were showing the same symptoms," Jallow told reporters. " After analysing those samples, the results show the presence of six different bacteria, and three different virus species."
As a member of the task-force, probing the deaths linked to AKI, MCA Regulatory Officer said they are yet to determine the causation of the disease.